22 February 2019
Your best quail hunt: Tips from an expert
Whether you're new to quail shooting or have grown up with coveys, pointers, shotguns, and weekends in the woods, it's always nice to hear from an expert to get his or her take on the best quail hunting tips.
We've got just that today.
Meet Sergeant First Class Josh Richmond. He is a shooter instructor with the Army Marksmanship Unit. He took his first shot at age five. There's a home video to prove it - he was with his dad, at his grandparents' house, in his hometown in Pennsylvania. Little did he know that his first shot would eventually take his life on a trajectory that he and his family would never have dreamed possible – a full-time career in shooting. (Check out this great interview with Josh here and see his amazing five-year-old skills.)
He started competing at age 10 and eventually traveled the world, oftentimes winning national and international shooting competitions. In 2004, right as he graduated from high school, the US Army asked Josh to join the US Army Marksmanship Unit (USAMU) on the shotgun team. The USAMU is a unique unit in the Army that competes in national and international shooting competitions and works with troops domestically and overseas to enhance marksmanship. The Army sent him to Ft. Benning, GA, and he's been there ever since, except for his deployment to Kabul Afghanistan in 2011.
Josh competed in two Olympic games, most recently in 2016 in Rio, where he finished 7th (the top American). He won two World Championships, multiple World Cups, and many national and international competitions. He's got an insanely sharp eye and a humble spirit – an all-around incredible American.
We were lucky enough to chat with this in-demand shooter recently. Between his job with the Army and Rio Piedra Plantation (he works there as a hunting guide), Josh is one busy man. We appreciate his wing shooting tips and hope his insights allow you to improve your quail shot and enjoy your best hunt ever – whether you're a rookie or a veteran.
Enjoy getting to know Josh!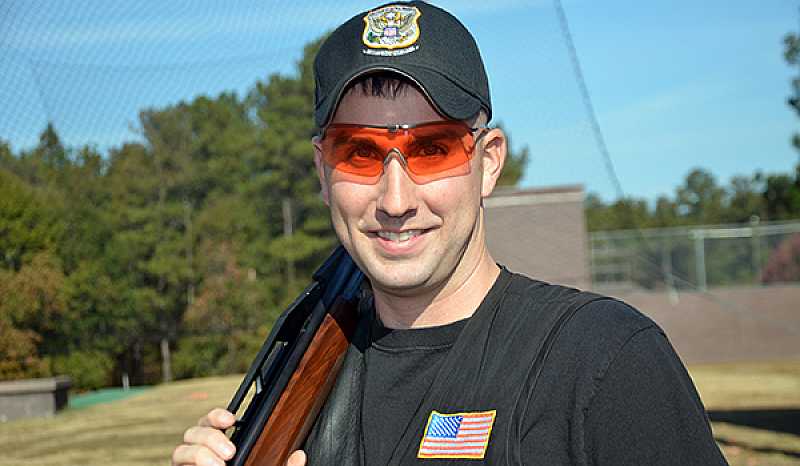 You're a professional shooter. How does clay shooting translate to shooting wild quail in the woods?
There are some similarities that you can draw together when comparing clay shooting to wing shooting. I like to practice my fundamentals and basics on clay target presentations because they have a consistent flight path and you can train certain shots over and over. When you're in the woods, you have to rely on what you trained in practice and apply those fundamentals and set ups to the flight of a wild bird or covey rise.
Do you recommend practicing with clay before starting a day of hunting? If so, why?
Although I do not think this is always necessary for a successful hunt, I would recommend practicing on clay targets prior to hunting. For a new shooter this can be a great time to practice safe gun handling. For the experienced hunter he or she can use this as a time to just warm up on a few shots and re-confirm your sight picture on a few targets.
What are some safety tips hunters should keep in mind as they get started and continue on in their days?
Safety is always the number one priority when you are shooting firearms and when hunting in the field.
It's vital to always listen to your guide as he orchestrates the hunt.
As you move into a dog on point, keep yourself in a line with your guide and hunting partner.
As you close in on the covey, it's important to be aware of the position of the dogs.
Finally, as the birds flush, remember to only shoot birds that are high enough and only engage birds in your sector of fire.
A guide's primary focus on the hunt is to orchestrate these variables to ensure safety – all while handling the dogs. If something doesn't feel right about a shot, it is highly encouraged not to take it. A good dog can find these birds again.
What is the top tip you'd give to experienced hunters?
Even experienced hunters can learn something new out in the field. My biggest piece of advice for experienced hunters is to remember the basics and fundamentals. It is easy for fluent hunters to get complacent and forget things like your lane of fire or making sure you pick out one bird in the covey. Taking it one step farther, if you are engaging two birds on the rise, remember to let your eyes lead the gun to the second bird and not rush the shot. As simple as it sounds, most experienced hunters still need a quick tune up on solid foot positon and not rushing the shot to quick.
What is your favorite shotgun to use for quail hunting?
I prefer to hunt quail with my grandfather's old Ithaca Side by Side in 20-gauge.
What type of ammunition do you recommend?
In South Georgia I prefer to hunt with a 20- or 28-gauge shotgun. With that said, I like using a Winchester AA game load 7/8 oz. of shot in a 7.5 or 6 shot size.
You don't have to be an Olympian shooter to get started in quail hunting. What tips do you recommend for first-time quail hunters?
I would stress to the importance of finding a guide or a reputable planation that is strict about the safety of quail hunting. Understand first the do's and don'ts on quail hunting - like safe shots, being aware of the dogs and other surroundings, and staying in line with the hunting party. After that, become a sponge and learn as much as you can about shotgun shooting either on the clay range prior to the hunt or when in the field. Get comfortable of the covey rise and start learning how the quail flies through the air. And never be afraid to not shoot at a bird if something doesn't feel right.
What's the ideal weather for quail hunting?
In my opinion I love a nice cool morning, about 50 degrees, with a light breeze in your face for the dogs to smell the birds.
Best time of day?
I like early mornings and late afternoons.
What makes the Plantation Belt such a great place to hunt?
The Plantation Belt is an area that has the right climate, soil, agriculture operations, forestry, and plenty of water that all help to make this such a great place to grow quail. The area and landowners have done a great job with maintaining pine forests, practicing good forestry with burning in the off season, and conducting predator control.
Why do you think it's important to have a hunting guide?
Having a hunting guide will not only make you more successful in the field, but it will also ensure a safe hunt. Hunting guides generally have great dogs and a good understanding of the landscape of the tract of woods that you are hunting. Guides typically know more about where large coveys may be present by reading cover and different terrain features. They also know how to use the wind (if it is available) to give the dogs a better chance of smelling the coveys. Lastly, if you're a guest at a planation, the guide can take all the thinking out of the hunt and allow you to enjoy and relax the event as a hunter.
What is it about the bobwhite quail that makes it so fun to hunt?
The bobwhite quail is my favorite bird to chase in the woods because of the unpredictability of the birds in flight. No two covey rises are the same and the birds are challenging when in flight. I also really enjoy getting into large coveys of birds, which are very common at Rio Piedra.
Tell us about the dogs you own.
I currently own five bird dogs: three German shorthair pointers, one lab, and an English cocker spaniel. I bought my shorthairs from Dave Walkers farm and kennel, the lab came from Colorado, and the cocker came from Rio Piedra Plantation. I also add three other dogs to my jeep when hunting at Rio Piedra, which are two English pointers and an English setter.
Do you have any advice for a hunter looking to get a bird-dog of his own?
I would say to make sure you have a plan and place for your dog. Do your research on the breeding and bloodlines of the specific dog. If you do not have the experience and time to train your dog, find a trainer or guide that can help you and the dog reach your goals and your intent for having a dog. And lastly, make sure you have a suitable kennel and space for this dog to stretch its legs and not be cooped up.
Why do you think hunting and shooting is an important sport to pass on to the next generation?
I think it is important to carry on the tradition of hunting and shooting because it can teach so many values that overlap into the individual's life. Learning the proper handling and safety of firearms can teach respect, confidence, hand eye coordination, and strengthen your mental agility. The fellowship and time spent while hunting is some of the best quality time I have spent with my family and friends. It is a legacy that needs to be practiced and preserved.